Your pet is an important part of your family, and when he or she is ill, you want the best medical care available.
The veterinarians and staff at Lexington Animal Clinic are ready to provide your pet with cutting edge veterinary medical care. From wellness exams and vaccines to advanced diagnostics and complex surgical procedures, your dog or cat will receive high quality care at our hospital.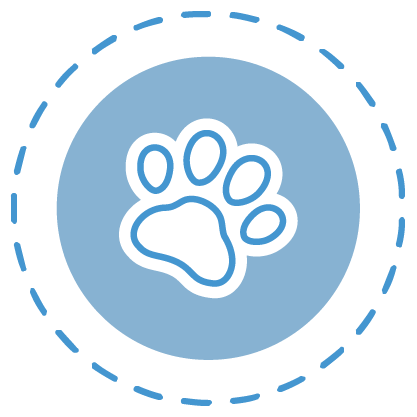 Laser Therapy
Laser Therapy is a new and wondrous addition to our ability to help our furry friends! Not only have we seen how well it works, the scientific research confirms the physiologic effects of laser therapy on healing. How do we use it? Any time there is inflammation or swelling already occurring or expected, we use it – and it works! We use it on every patient post-operatively on their incisions, areas of acute injury that are painful or swollen, the backs of dogs with intervertebral disc disease, joints and muscles of patients with chronic arthritis pain, the hot and painful ears of dogs with ear infections, the very painful skin associated with 'hotspots', infected wounds or abscesses, fractured bones, areas of gum inflammation or tooth removal sites, in fact, if there is a problem, there are very few areas that will not benefit from laser therapy! Many times it helps to reduce or even eliminate the need for additional pain medications.
Wellness Exams
Vaccinations are given routinely to the average healthy pet. Vaccination titers are available and necessity is determined on a case by case basis. Common vaccines for dogs include rabies, distemper, leptospirosis, coronavirus, parvovirus, and bordatella (kennel cough).Common vaccines for cats include rabies, feline leukemia and feline distemper.
Heartworm and tickborne disease testing is recommended for every dog annually. We use a pet-side test that determines if the pet has heartworm disease, lyme disease, erlichiosis or anaplasmosis. For any positive results, we discuss treatment and further diagnostics as needed.
Heartworm and infectious disease testing is recommended for every indoor/outdoor cat annually. We use a pet-side test that determines if the pet has heartworm disease, feline leukemia or feline infectious viremia.
We help you determine which heartworm, flea, tick, and intestinal parasite preventatives are best for your pet(s) based on their lifestyle and your situation.
We routinely carry and recommend:
ProHeart 6- An injectable 6 month heartworm preventitive that also treats hookworms. Enjoy the ease of only 2 injections to protect your pet for an entire year.
Bravecto- A single chewable tablet that protects your pet's from fleas and ticks for 3 full months. It pairs up perfectly with Proheart as your pet will only be needing 4 chews for 1 years prevention.
Revolution- A monthly topical preventative that protects your pets from fleas, heartworms and mites.
Trifexis- A monthly tablet that protects your pet from fleas, heartworms, roundworms, hookworms and whipworms.
The majority of our preventative products come with a company guarantee when proper protocols are followed. When breakthroughs occur, we will present your pet's case to the appropriate representative for renumeration. Many products purchased from online pharmacies are counterfit, used past expiration dates, or used improperly and have no guarantee.
Clinic and Home Dental Care
Complete care from dental prophylaxis to oral surgery. There are many options available to improve your pets dental health including dental cleanings when needed and at home dental care. We sell a wide variety of dental products, show you how to use them, and encourage you to do as much at home dental care as you are comfortable with. The majority of owners do not realize that 'dog breath' is not normal and we can do something about it!
Fully Stocked Pharmacy
We have a complete in-house pharmacy to provide you with medications on the spot so we may begin treatments for your pet right away. For specialty or 'human medications', we will either write you a prescription for use at a reputable pharmacy or order it immediately. We do not write prescriptions for heartworm preventative and other pet-only products through discount pharmacies because we have no control over their veracity, expiration dates, and no company guarantee is available for our clients. Our goal is your pet's continued health and wellness. As always, if you have any questions or problems, please call or email us right away!